Description
1MT Sort is a FileMaker add-on that makes it easy to implement a sorting mechanism with clickable column headers.
Whether it is on a list layout or in a portal, it is really hard to sort columns nicely.
Thanks to this add-on, you can implement a sorting mechanism in just a few moments.
This add-on requires some configuration (easy).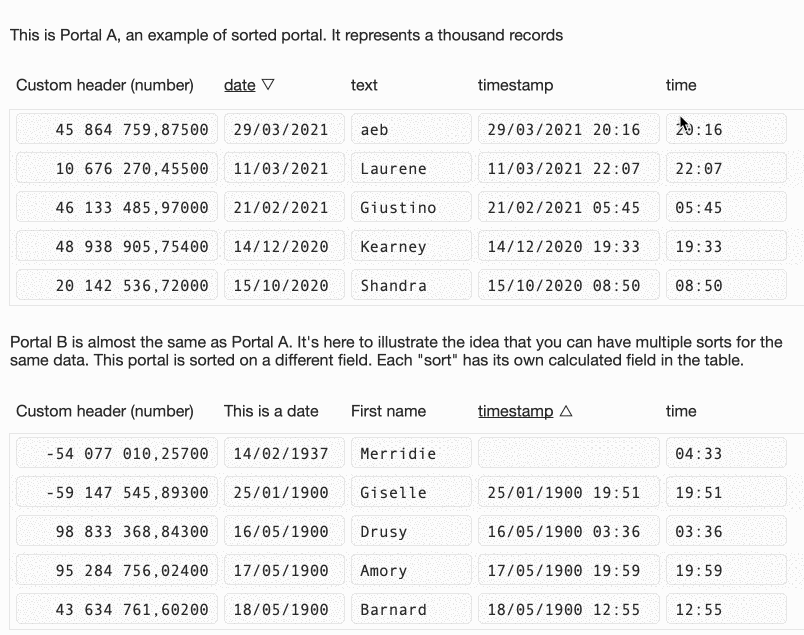 Features
Clickable column headers

Support for all data types

Alternating ascending/descending sorting

Sort order indicator (underlined text and arrow indicating ascending or descending sort)

Independent sorting of several portals displaying the same data

Preservation of the active record, active field and text selection
Demo
Limitations
1MT Sort has been tested with datasets up to 2000 records, with remarkable performance (with no discernible difference to native sorting). At 10,000 records the native sort is significantly faster.
Decreasing sorting of text fields in languages using an alphabet other than Latin and its derivatives, like Greek, Cyrillic, Thai, Arabic, Hebrew… is not supported.
License
The license is for a single developer, with unlimited number of implementations.